Speculative Fiction of the Highest Caliber
Posted by TammyJo Eckhart | 19 August 2015
Stories from the Polycule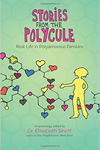 New non-fiction anthology I'm part of. Learn about real-life poly relationships and families.
Savage Love Letter of the Day
My partner's and my book, At Her Feet, was mentioned by Dan Savage in his relationship advice to an asexual female top.
---
Beyond the Softness of His Fur Omnibus Available in Paperback
After appearing as three separate ebooks, the "Beyond the Softness of His Fur" trilogy is now available from Amazon in an omnibus paperback edition. For the first time ever, readers can enjoy this provocative and edgy science-fiction trilogy from start to thrilling finish.
When driven and dominant executive Emily Potter is promoted within her company, the bosses make it clear that the promotion comes with certain expectations: she is to purchase herself a morph — a customizable animal hybrid that is both sexual pet and status symbol. Emily's personal tastes require a very unique set of specifications for her morph. Emily desires a male pet that is both exotic and submissive — yet all of her expectations are exceeded with Wynn, a beautiful white fox morph with a desire to please his new Master and an unusual intelligence that intrigues her. But the soulful wisdom that makes Wynn so special is a challenge to the morph-culture status quo and could ultimately spell disaster for both Master and pet.
---
Beyond 50 Fiction Sampler

I am pleased to be one of the 50 authors to be featured in the Beyond 50 BDSM fiction sampler, available for free download from:
At Her Feet: Now an Audio Book!

I'm happy to announce that the book I've written with my partner, At Her Feet: Powering Your Femdom Relationship, is now available, unabridged, as an audiobook on Audible, Audible (UK), iTunes, and Amazon!
We're honored to be one of only two Greenery titles chosen.